Here Are All the iPhone 15 Colors We Expect From Apple
Apple will unveil its new iPhone 15 lineup in a range of new colors at a special event likely to be held on September 12. Here are all the colors we expect to see for the four models: iPhone 15, iPhone 15 Plus, iPhone 15 Pro, and iPhone 15 Pro Max.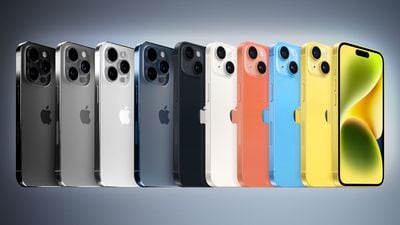 iPhone 15 and iPhone 15 Plus
In the last few years, ‌iPhone‌ lineups have launched with just five color options, with a sixth following in the spring to boost sales midway through the device's product cycle.
Apple is expected to continue this trend for the 6.1-inch iPhone 15 and 6.7-inch iPhone 15 Plus. How do we know? Because leaked pictures suggest Apple will also color-match the charging cable that comes in the box with each device.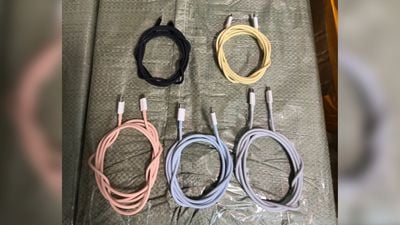 Leaked iPhone 15 color-matched USB-C cables (Image: Kosutami)
Previously, all ‌iPhone‌ models have come with a white Lightning cable featuring a white rubber jacket, regardless of the color of the device itself. However, this year all iPhone 15 models are switching to the USB-C port standard, and Apple has seemingly chosen to include color-matched cables with each device, perhaps to celebrate the transition.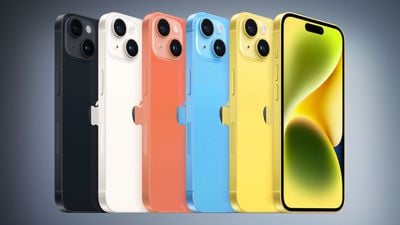 Leaked pictures of the cables therefore suggest Apple will offer the iPhone 15 and iPhone 15 Plus in the following colors (bear in mind that Apple may adopt different official names for them):
Midnight/Black
Starlight/White
Yellow
Blue
Orange/Coral Pink
A question mark currently remains over the orange/coral color. The leaked orange cable shown above has appeared to look vaguely pink in earlier leaked photos, suggesting that it could be more of a coral shade. Apple offered 2018's iPhone XR in a Coral version, so it could well be bringing the color back for 2023.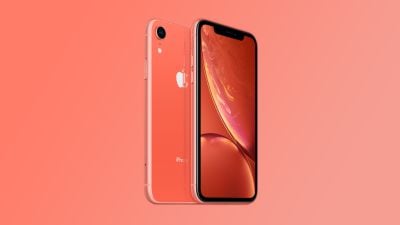 "Coral" iPhone XR released in 2018
While a red color is absent in the rumored lineup, it is possible that Apple will refresh the iPhone 15 and iPhone 15 Plus with a PRODUCT(RED) model in the spring of 2024, as it did in spring 2017 and spring 2018. In March 2023, Apple also introduced a new Yellow color option for the iPhone 14 and iPhone 14 Plus, so we could again see another new color for the iPhone 15 equivalent models early next year.
iPhone 15 Pro and iPhone 15 Pro Max
Apple typically chooses four, cooler-toned colors for its iPhone Pro models. Last year, for example, Apple offered iPhone 14 Pro models in Deep Purple, Gold, Silver, and Space Black. This year, however, a design change is expected to switch things up a bit.
Apple's 6.1-inch iPhone 15 Pro and 6.7-inch iPhone 15 Pro Max models are expected to feature a lighter titanium frame instead of a stainless steel frame for the first time, and to best show off material change, Apple is introducing a series of new colors.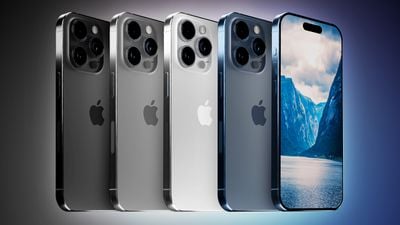 Instead of Deep Purple, Apple is expected to unveil a new dark blue shade for the iPhone 15 Pro and iPhone 15 Pro Max, which is not too far off from the blue of the iPhone 12 Pro, but with more gray for a deeper shade.
Meanwhile, rumors suggest that other colors will include a lighter silver-gray shade, a space black color, and a natural titanium color. Because of the switch from stainless steel to titanium, Apple is unlikely to offer a gold option this year, despite the color's popularity in some Asian markets. To summarize, the colorways are expected to be the following:
Dark Blue
Silver-Gray
Space Black
Titanium
iPhone 15 Series Announcement Date
Apple is expected to unveil its new iPhone 15 lineup at an event held on Tuesday, September 12, although we are still awaiting official confirmation.
Based on previous years, Apple will likely reveal the date of the event in the form of media invitations sent out between Tuesday, August 29, and Tuesday, September 5. Stay tuned to MacRumors for all the coverage, and be sure to check out our dedicated iPhone 15 and iPhone 15 Pro guides for everything we know about the devices in advance.