Chrome for Mac Gets New Downloads Experience
Google today announced a new Chrome downloads experience for its desktop browser, with the update aimed at making it easier to interact with recently downloaded files.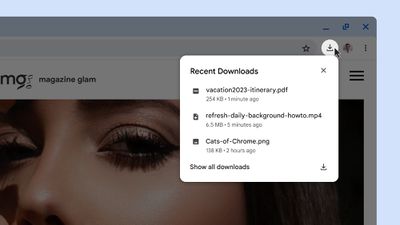 Chrome's updated download tray is located to the right of the address bar, and it replaces the interface at the bottom of the display. The new look is closer to the Safari download window, which is also at the top of the browser.
When a download is in progress, an animated ring will provide a quick way to monitor the download at a glance, and when the download has finished, the tray will open up briefly before dismissing itself for uninterrupted browsing. The download tray houses Chrome downloads from the past 24 hours, and it includes in-line options for opening the folder that a download went to. Downloads can be canceled, retried, paused, and resumed from the download tray.
Potentially malicious downloads will continue to trigger an alert, with the new interface providing additional context if malware or a virus is detected in a download. Google says that a more advanced deep scan function will be coming in the near future.
Google today also highlighted several new features that have been added to Chrome for iOS. When tapping on the address bar of an eligible site, Chrome will bring up relevant search suggestions. As an example, if you're reading an article about Japan, Chrome will show related searches for restaurants and tourist attractions in a new "Related to this page" interface.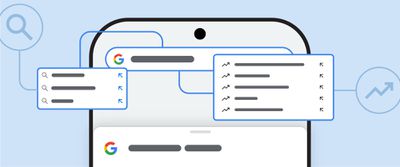 Chrome is also now offering more search suggestions. When starting a search, you'll see 10 suggestions for things you might want to search for, up from six. The most relevant suggestions in the list will show up first.
Later this year, Google plans to add a trending feature to iOS. Already available on Android devices, the trending feature shows you what's popular with Google searches directly from the Chrome address bar.
More information on the new features can be found on the Chrome blog.