Gurman: Apple Planning Major 'Apple Watch X' Redesign to Introduce New Band System and More
Apple is planning a complete revamp of the Apple Watch for the device's tenth anniversary, according to Bloomberg's Mark Gurman.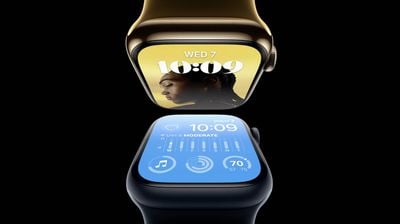 In the latest edition of his "Power On" newsletter, Gurman dubs the overhauled device "Apple Watch X," similar to the 2017's iPhone X that celebrated ten years of the ‌iPhone‌. Since the original Apple Watch was unveiled in 2014 and launched in 2015, Gurman is unsure whether the Apple Watch X will be released in 2024 or 2025.
Apple is apparently working on a thinner casing for the Apple Watch X, as well as different ways for bands to attach to the device. The mechanism for connecting bands to the Apple Watch's casing has remained the same since the device's introduction, allowing bands to be compatible throughout different generations of the Apple Watch.
Individuals involved in developing new Apple Watch models told Gurman that the existing band system takes up a large amount of space that could be better utilized for bigger batteries or other internal components. As such, Apple is now considering a magnetic band attachment system, but it is currently unclear whether it will be ready or present on the Apple Watch X.
The Apple Watch X could also coincide with Apple's introduction of microLED display technology, which surpasses the color and clarity of existing OLED screens. It may also be the first Apple Watch to feature blood pressure monitoring.
Gurman added that the Apple Watch Series 9 is due to be only a "minor refresh," similar to the incremental updates that the device has received in recent years. The new devices are expected to receive faster processors and new color options, but will otherwise be largely the same as the existing models. Gurman says it is "arguably the most minor upgrade in the product's history."
As a result, Apple has recently been considering switching the Apple Watch away from an annual upgrade cycle to offer more substantial updates less frequently, Gurman says. He noted that the iPad started with an annual upgrade cycle, but this has now slowed to a refresh around every 18 months or so.