GM Admits No Technical Reason CarPlay Couldn't Be in Future EVs
Earlier this year, General Motors revealed it is planning to phase out support for CarPlay and Android Auto in all of its electric vehicles, citing the need for tighter integration with the vehicle as GM rolls out a new infotainment system co-developed with Google.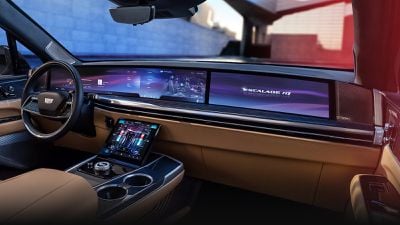 With this week's high-profile unveiling of the $130,000+ Cadillac Escalade IQ that will launch in late 2024, GM followed through on its promise as the automaker confirmed to The Verge yesterday that the luxury electric SUV won't support CarPlay or Android Auto anywhere on its massive 55-inch dashboard display.
The move to discontinue to ‌CarPlay‌ and Android Auto is more of a political one than a technical one, however, as MacRumors alum and car journalist Jordan Golson noted in his video overview of the new Escalade IQ.
Golson spoke to GM representatives about the omission and they shared that the decision was made due to EV-specific functionality such as utilizing vehicle charge state information to assist with navigation routing. When using ‌CarPlay‌ or Android Auto, the user's phone has no knowledge of the vehicle's charge state, and GM believes that forcing users to use the built-in Google-based system which can account for this information will deliver a better user experience.
Golson says that given this is not a technical decision, GM could update the infotainment system on the Escalade IQ and other upcoming EVs to add ‌CarPlay‌ and Android Auto if it finds customers are demanding it, but there are no guarantees about what GM will do.
While GM's argument about tighter integration with vehicle data does have some merit, there is nothing preventing the company from offering users the option of using either the built-in system or ‌CarPlay‌/Android Auto, as is the case in millions of vehicles on the road today.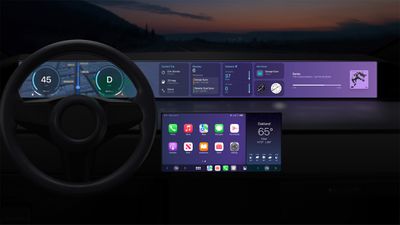 Apple's next-generation ‌CarPlay‌
It also appears the argument could largely become moot with the next-generation version of CarPlay teased by Apple at WWDC 2022, which integrates very closely with vehicle systems and expands the ‌CarPlay‌ experience across the entire dashboard. We should learn more about next-generation ‌CarPlay‌ and see the first vehicles introduced with it later this year, but GM is not included in the list of over a dozen brands announced by Apple as partners on the feature.
Popular Stories