Best 10.2in iPad deals (2020, 8th gen) of Black Friday
Black Friday may be on 27 November but top deals have already been unleashed. If you're on the hunt for a 10.2in iPad (8th gen) deal this Black Friday, you've come to the right place. We're gathering all the best offers here, whether you're after the Wi-Fi or Wi-Fi + Cellular model.
The 8th gen iPad went on sale on 18 September and shares a 10.2in screen with its 7th gen predecessor, but it's a whole different story under the hood.
Powered with a new A12 Bionic processor, the new iPad 2020 promises 40% better CPU performance, stronger graphics, and is the first iPad to integrate Neural Engine – Apple's AI and machine learning software that allows better image processing and AR (augmented reality) support, along with a smoother Siri experience.
To top it all off, the iPad 8 is also cheaper than last year's model – and you can get it for even cheaper from certain retailers.
Here we're not only tracking the best iPad 10.2in prices of Black Friday, but also which retailers have the device in stock, with quick, cheap, or free delivery.
How much does the iPad (2020) cost?
iPad 10.2in (2020, 32GB): £329/$329/AUD$499
iPad 10.2in (2020, 128GB): £429/$429/AUD$649
iPad 10.2in (2020, 32GB, cellular): £459/$459/AUD$699
iPad 10.2in (2020, 128GB, cellular): £559/$559/AUD$849
The iPad 2020 is £20 cheaper than the 2019 model which started at £349 – which means there's no reason to pay full price for the 7th gen iPad, which is still available to buy widely, though now at slightly reduced prices.
Our advice remains clear though: if you're choosing between the 7th generation and the 8th, go for the 8th. You'll get a stronger processor and much better value.
For everything there is to know about the newest iPad, including design and software updates, see our dedicated article.
Does Apple have a Black Friday sale on the iPad 2020 (8th gen)
Apple announced it will have a Black Friday sale this year and will offer giftcards worth up to £120/$150/AUD$210 with select purchases, however, this does not include the 10.2in iPad (8th gen). Instead, the models that do qualify for gift cards include the iPad Pro and iPad mini. See all the best iPad deals across every model.
Best Black Friday deals – iPad 2020 (8th gen)
The iPad (8th gen) is available buy directly from Apple, along with a few other select retailers in the UK. Shipping is free from Apple, though delivery will take between 4 weeks in the US and 3-4 weeks in the UK.
Below, we've listed where to buy the iPad (2020) at the best price this Black Friday.
eGlobal Central – up to £59 off
If you don't mind having the 8th gen iPad shipped from China, you can get an excellent discount along with free accessories thrown in:
Amazon – up to £20 off
Delivery is free but stock may not be available
While there's no money off from these retailers, you can find Black Friday bundles:
Currys PC World – Free next day delivery with FREENEXT at checkout, 50% off Microsoft 365 Family or Microsoft 365 Personal (1 year)
For faster delivery we'd recommend the following retailers:
These retailers are currently out of stock but check back often if they're your preferred retailer:
John Lewis – 32GB Wi-Fi only model out of stock but others available
KRCS – Out of stock, stock returns in 2-3 weeks
Argos – Out of stock
Best Black Friday deals – iPad 2020 (8th gen) on contract
These network carriers break the cost up into monthly payments if you don't want to pay in one go:
Get a trade-in discount on iPad 2020 (8th gen)
Don't forget, you can also get money off the new iPad (2020) if you trade in your old iPad. Apple offers up to £410/US$500 when you trade in an old iPad Pro. Unfortunately, Apple won't offer trade-in discounts on non-Apple tablets.
You can see the full breakdown below: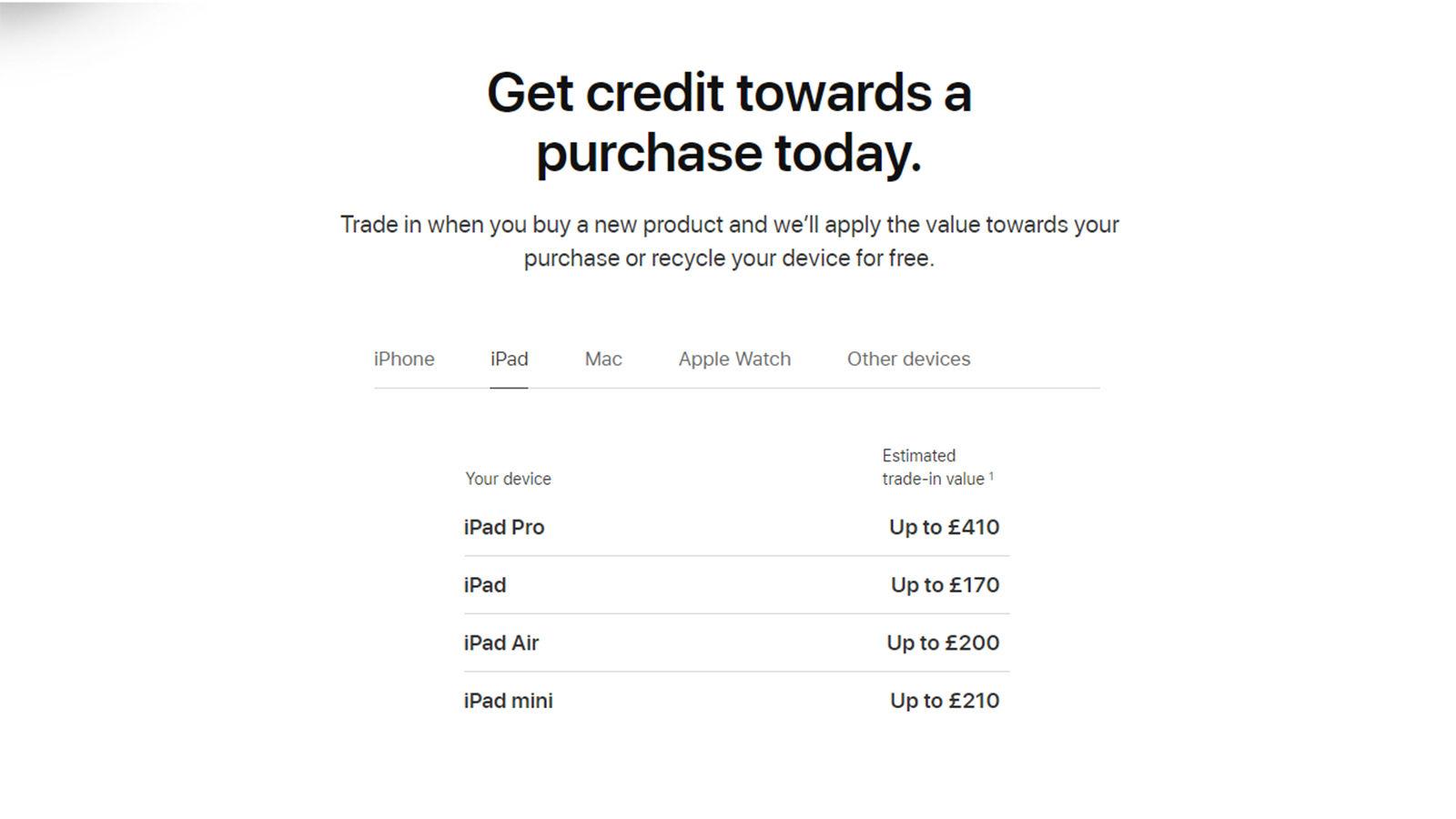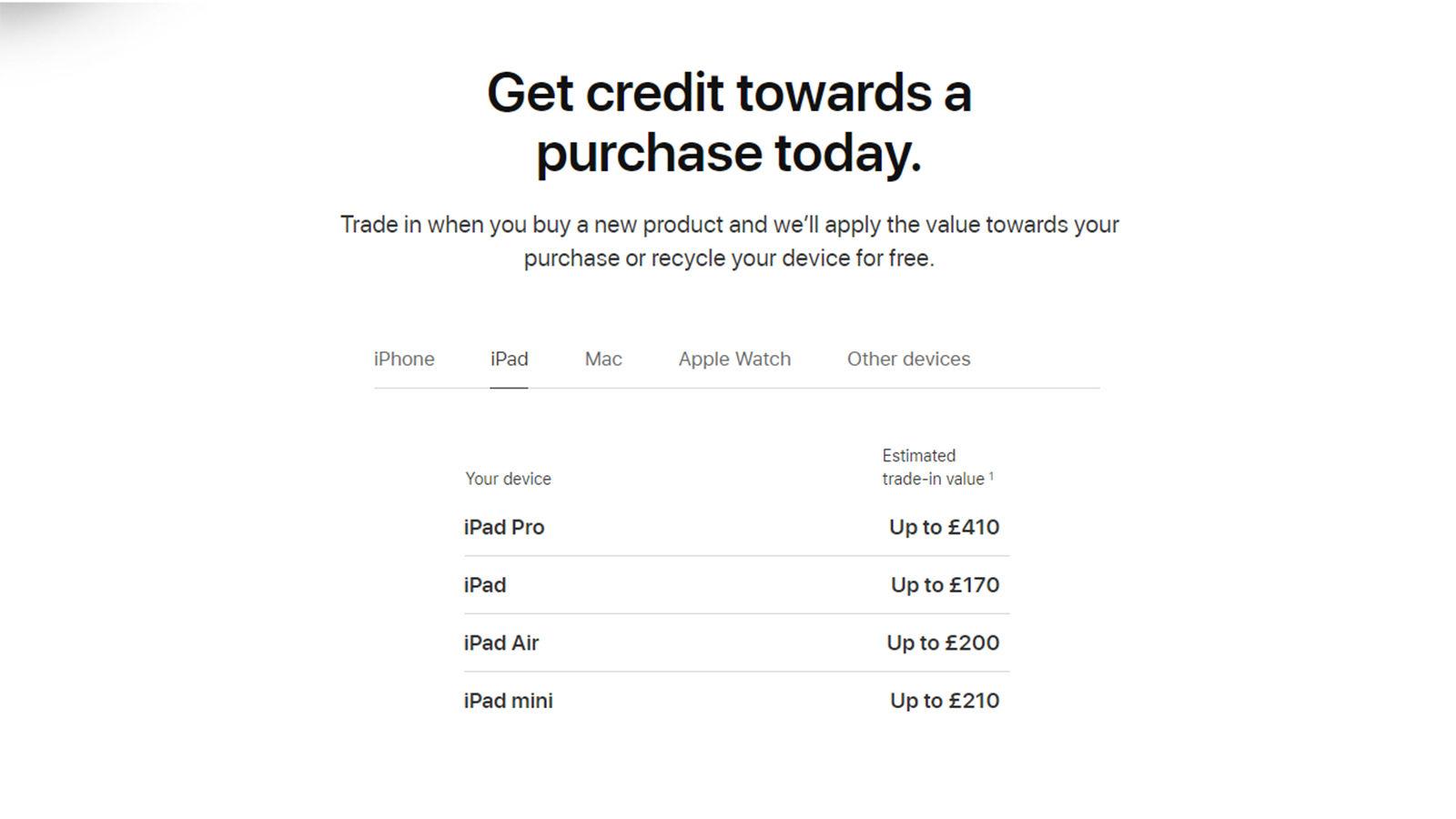 Get an Apple Education discount on new iPad (2020)
The new iPad qualifies for an Educational Discount, so you can pick it up for even less. The Apple Education pricing applies to university students, parents of university students, and teachers or staff of all levels. The discount knocks up to £80/US$100 off a new iPad.
Read more about Apple Education Discount here.
You can also head to Apple's UK Education Store, Apple's US Education Store or Apple's AU Education Store to explore the discounts for yourself.
We're separately looking at the best iPad deals of the month if you want to save on a different model.