Best Beats headphones 2020
A pair of Apple-branded over-ear headphones – probably called AirPods Studio – might be on the way sometime soon but even if that does happen, Beats headphones will remain a solid choice – especially for iPhone users.
Although Beats headphones work with any Bluetooth device, many feature the great W1 and H1 chips also found in Apple AirPods, which make connecting with Apple devices easier than ever.
It's no longer the case that Beats headphones are only available to those with plenty of cash to splash either. The Beats Flex, for example, are available for under £50/$50.
But which Beats headphones are right for you? In this article, we rank all the Beats headphones our experts have tested out for things like audio quality, fit and design, value for money and features
For more general help, jump ahead to our Beats headphones buying advice.
Best Beats headphones 2020
1.

Beats Studio 3 Wireless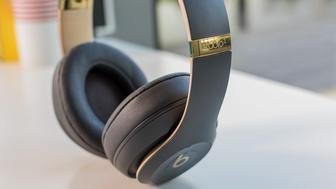 The Studio 3 Wireless are the most fully featured Beats headphones and have a decent claim to be the best you can buy. This also means they are the most expensive, but their RRP still undercuts similar products from Bose and Sony.
They work best with an iPhone or iPad but it's great that you could use them with any other Bluetooth device should you want to. Sound quality is close to as good as you'll find on headphones for this price, but they may not be the ones to go for if your main musical love is loud, guitar-led rock music.
That said, it's hard to fault the Studio 3 headphones and they stand out further thanks to exceptional comfort and class-leading battery life.
Read our Beats Studio 3 Wireless review.
2.

Powerbeats (2020)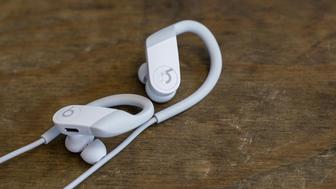 The Powerbeats (2020) are a classy pair of Bluetooth headphones that will suit runners with a penchant for bass-heavy music. They're good value for money, too.
They fit snugly, resulting in solid passive noise isolation and very little chance of them falling out of your ears; this is backed up by both ear hooks and a neck cable which might even be overkill, and do make the headphones difficult to put on and take off.
Audio quality fulfils all the promises and the Powerbeats are particularly good at delivering that essential bass punch. But they're not one-trick ponies, and gentler tracks were still rendered with warmth and detail.
Finally, battery life is excellent, and while Fast Fuel wasn't quite as effective for us as the manufacturer predicted, it remains a useful option for quick-charge emergencies.
Read our Powerbeats (2020) review.
3.

Beats Flex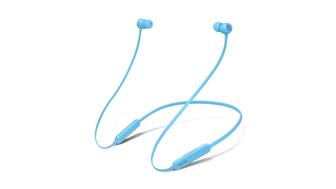 Those on a tighter budget should look to the Beats Flex considering they are available for under £50/$50 making them the cheapest wireless headphones Beats has made.
Despite being cheap, the Flex headphones still offer strong performance with good audio quality and a solid 12 hours of battery life before you need to charge.
There are colourful designs on offer, you won't lose them easily but they don't come with any water resistance.
Read our Beats Flex review.
4.

Powerbeats Pro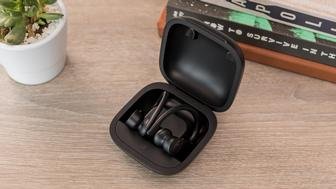 Powerbeats Pro will appeal to a particular kind of user and they will sort of have to considering the price, which is more than a pair of AirPods and a lot of other Beats headphones.
However, they fit a lot better, offer higher quality audio and longer battery life too. These features, along with waterproofing, make them a perfect choice for runners, gym bunnies and anything in between.
A chunky case to fit the large design is a downer and we've had connectivity issues using them with Android phones but it's likely you're an iPhone user anyway.
Read our Powerbeats Pro review.
5.

Beats Solo Pro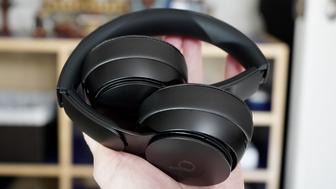 If you can afford them, then the Solo Pro are excellent headphones and easily one of the best pairs of Beats you can buy. They are, of course, especially good for iPhone users.
While they don't move things on a huge amount compared to the Solo 3, the design has been tweaked, they sound better and namely add active noise cancelling.
Nothing is exactly ground-breaking but these are the on-ear wireless headphones to get if you want the best to go with your iPhone. Look to the Solo 3 if you want something cheaper and don't need noise cancelling.
Read our Beats Solo Pro review.
6.

BeatsX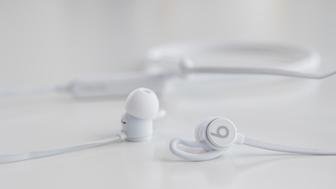 If you're looking for a stylish, discreet pair of earphones, the BeatsX are an ideal option. Featuring a variety of wingtips and eartips to find the perfect fit, the BeatsX stay securely in your ears no matter what you're doing. They're incredibly lightweight and comfortable to wear, thanks in part to the Flex Foam cable.
The highlight of the BeatsX is, surprisingly, in the battery department. It features Fast Fuel tech that provides two hours of playback with five minutes of charging, and can go from flat-to-full in only 40 minutes.
In the sound department, the BeatsX don't disappoint. The bass is punchy but not overpowering like older Beats headphones, providing nice, balanced audio with warm mids and crisp highs.
Our one disappointment is that these sporty earphones don't offer any kind of water- or even sweat-resistance.
Read our BeatsX review.
7.

Beats EP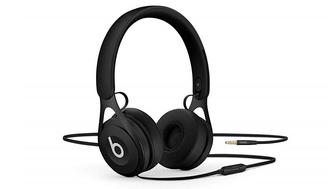 If you just want a simple and no-nonsense pair of Beats headphones then the EPs fit the bill.
They're affordable and get the job done with minimal fuss. Plug them in, put them on and you're away. Considering the price difference to some pairs, we're impressed with the build quality and sound performance.
These are the everyman's Beats.
Read our Beats EP review.
8.

Beats Solo 3 Wireless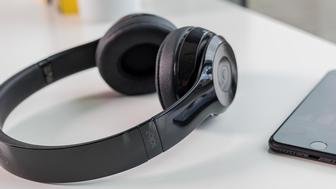 The Beats Solo 3 Wireless are potentially amazing headphones – assuming you're happy with the familiar plastic (and durable) design to start with.
We're impressed with the features on offer here, particularly the best battery life we've ever seen on a pair of wireless headphones.
Sound quality is good, but more than most headphones you need to be a fan of bass-dominant music for the Solo 3 Wireless to suit you. If you're likely to listen to other genres far more, then we'd recommend looking elsewhere.
Read our Beats Solo 3 Wireless review.
9.

Beats urBeats3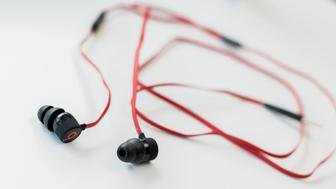 If you must have Beats and you want in-ear wired headphones then the urBeats3 are the best you can get. Their audio is similar to the wireless BeatsX but with the advantage of a headphone jack.
Comfort was a slight issue for us over extended periods, but you might find otherwise. With an RRP at under half the price of the BeatsX, the urBeats3 are a bit of a steal.
Read our Beats urBeats3 review.
How to choose a pair of Beats headphones
Generally speaking, there are three kinds of headphones, and they are all represented in the Beats line-up. In-ear, on-ear and over-ear headphones each serve different fits, tastes and looks.
In-ear Beats will come with multiple sizes of tips to suit different sizes of ear. On-ear and over-ear have a similar design, but the latter completely covers the entire ear and sometimes offers active noise cancellation to tune out the outside world.
How much should you spend on Beats?
It depends on your budget and what you want from a pair of Beats. There are cheaper options in the range, but if you want the classic Beats look with the on- or over-ear design then the price will edge over £200/$200. There are some options under £50/$50, so they don't have to break the bank.
We've reviewed a wide range of Beats headphones so there is something for everyone. Of course, the more you spend, the more features and quality you're going to get. Don't expect active noise cancelling (ANC) for under £100/$100.
If you're after sales and discounts, have a look at our guide to the best headphone deals.
Do you need wireless Beats?
Most of the Beats models here are wireless – unsurprising considering Apple ditched the headphone jack on iPhone – so you'll need to keep them charged to work over Bluetooth. Some still come with a traditional wire and 3.5mm jack if you don't want to worry about battery life and have a device you can simply plug them into.
The urBeats3 are wired and have a headphone jack or Lightning connector depending on which model you go for.