Apple Watch Series 6 review
Apple doesn't set pulses racing with the names of its smartwatches, but the devices themselves are attractive and popular. The latest, imaginatively titled Apple Watch Series 6, was unveiled at the Time Flies event on 15 September, and, equally predictably, adds a raft of small but pleasing tweaks to the winning formula.
If you already own the Series 5, you're unlikely to be convinced that this is worth your money, but Apple's watches are designed for a slower upgrade cycle. Our Apple Watch Series 6 review, for this reason, will do its best to evaluate the device on its own merits rather than purely in comparison with its predecessor (although we will touch on that occasionally).
We've spent a week with the Series 6, testing out its speed, user-friendliness, features and battery performance in order to offer detailed advice. Our aim is to provide all the information you need to make the right buying decision, whether you're a veteran who's owned every model since the Series 0 or a newcomer who barely knows the side button from the Digital Crown.
For broader advice read our Apple Watch buying guide, which looks at all the currently available models.
Price & availability
The Apple Watch Series 6 is available to buy right now. It was announced on 15 September and went on sale on 18 September.
The Series 6 starts at £379/US$399/AUD$599 for models with GPS only:
40mm: £379/US$399/AUD$599
44mm: £409/US$429/AUD$649
If you want to add cellular connectivity to the mix, you're looking at a starting price of £479/US$499/AUD$749:
40mm: £479/US$499/AUD$749
44mm: £509/US$529/AUD$799
Note that these prices are for the aluminium version, which is what we'd recommend as the best-value choice, and with the most basic straps. But if your budget is flexible, you can choose a costlier steel version instead, and any of a wide range of fancy and/or fashionable straps.
You can buy direct from Apple, but you may be able to find it at a slightly lower price from a different retailer; check our guide to the best Apple Watch Series 6 deals for the latest information.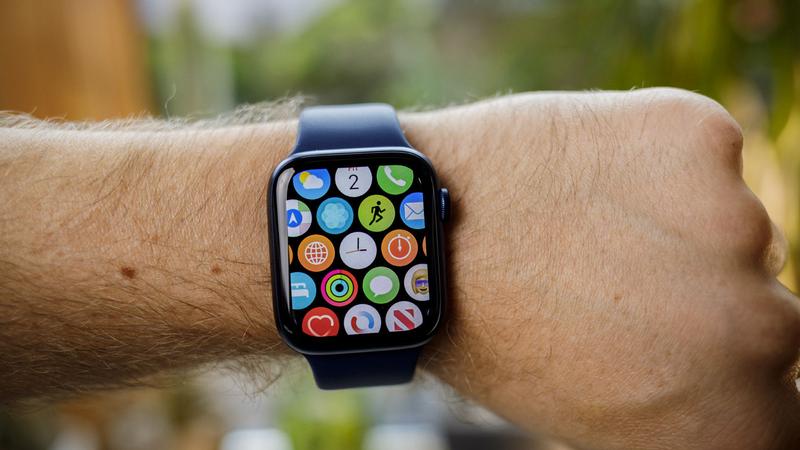 Design & build quality
Apple has essentially released just two watch designs over the past five years: the original, which was persisted with up to the Series 3, and then the larger-screen update which has been used for the Series 4, 5 and 6. And to be honest, other than shrinking the bezels and rounding the corners, there's not much of a difference between the two.
So you really shouldn't expect any surprises in terms of the physical design. The Series 6 is an Apple Watch, and that tells you pretty much everything you need to know from an aesthetic point of view. But that's not necessarily a bad thing, particularly if this is your first foray into Apple's smartwatch range.
It's a slim square – or rather a squircle, allegedly Steve Jobs' favourite shape – that sits snugly on the wrist. The sensors on the undercarriage stick out in a larger convex dome than you might expect, but this sinks comfortably into the flesh of your arm rather than making the watch stick out.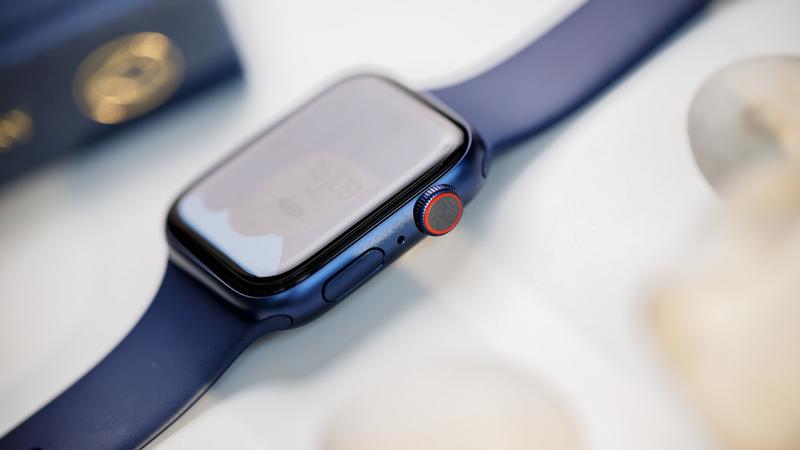 Slimness and sleekness are important for a smartwatch, and particularly for one which is going to be used for sleep tracking; it's important that the owner not feel conscious of wearing it. I never felt conscious of the Series 6, unlike the lighter but blockier Fitbit I sometimes wear at night, and actually woke up one morning with my chin resting happily on its smooth flat screen. (That wasn't what woke me up, to be clear. I have children.)
The squareness might seem a counterintuitive choice for a watch, particularly if you were planning on using a traditional analogue dial, but it's vastly more practical for other screen functions: reviewers have found that circular smartwatches are less good at displaying text, for instance.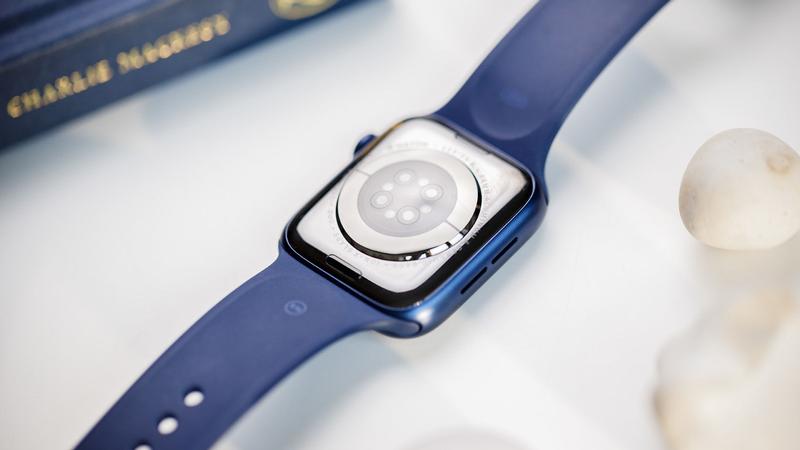 Throughout its product line-up Apple's designers love to find pleasing contrasts between matt and gloss surfaces, and the Series 6 is no exception, the gloss screen bezel giving way to the matt brushed metal of the watch body. It's an elegant, minimalist design that doesn't draw attention to itself.
Of course, if you do want to draw attention to yourself you might like to plump for this year's new blue colour finish, a rich dark navy that looks fantastic and – importantly for the fashionistas out there – should go with most colours you care to wear.
The Series 6 is swim-proof, too. It's credited with a water resistance rating of 50m.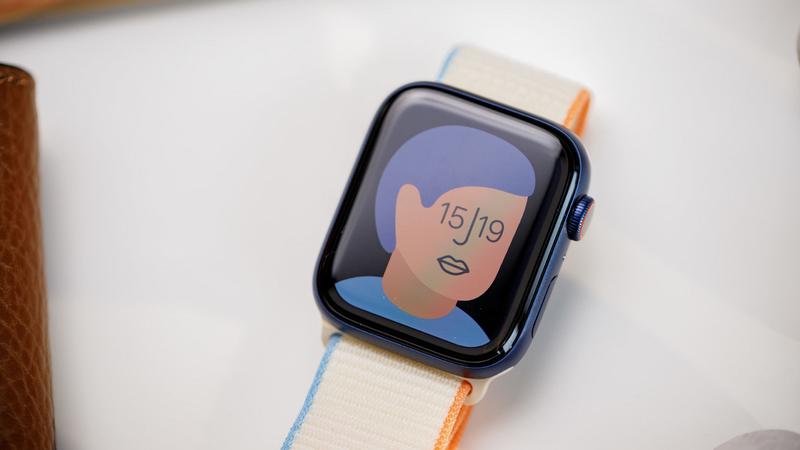 Battery life
Battery life is more important than ever because of the inclusion of sleep-tracking features in watchOS 7, which complicate the usual nightly charging routine.
Apple claims a battery life of 18 hours, but I found performance far more impressive. With notifications and all the usual features turned on it lasted a day, then a night (in which the device was used for sleep tracking), and then another day of typical use, finally expiring late on the second day after 36 hours of non-stop use.
In theory that's a substantially weaker performance than the old Series 2, which when brand-new lasted a stunning 54 hours in our tests, but that device didn't have any duties during the night. And the Series 2 was very much the series' high point: later models have all compromised on battery life in order to incorporate larger or always-on screens, cellular connectivity and so on.
The Series 3 managed 39 hours when new and the Series 4 lasted 31, both again unburdened by sleep-tracking duties; my colleague Michael Simon was able to coax 36 hours out of the Series 5 but only by turning off all of the display features. He otherwise struggled to get to 24 hours.
So battery performance, once I started crunching the numbers, showed a big improvement on the downward trend of recent years – while remaining, of course, far behind the multi-day performance of simpler fitness trackers. But the new requirements of sleep tracking meant I didn't actually feel terribly positive about things on a subjective level.
It's hard to overstate quite how much sleep tracking disrupts your charging routine, and I've hit the power-saving warning mode more times in the week I've used the Series 6 than in a year of using my previous model, the Series 4. But make no mistake: the 6 has a better battery, and these problems are caused by my wish to track sleep rather than any deficiency in the hardware.
One last remark on the subject of battery life: because nighttime charging is likely to be off the table, speed of charging becomes key. I charged the drained Series 6 for half an hour and got it to 50%. An hour of charging now and then will be enough to keep you topped up.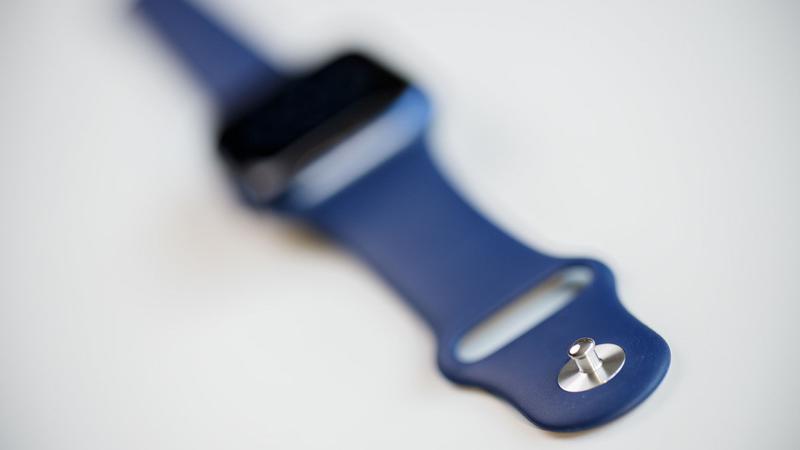 Specs & features
The processor inside the Series 6 is a proprietary Apple chip called the S6. That doesn't tell you much in itself, although Apple claims it's up to 20% faster than the S5 in the Series 5. There are no speed benchmarks for watchOS so we can't test that scientifically; I could only tell you subjectively that the Series 6 feels extremely slick and fast in general use, but I'd say the same about the Series 4 I was using the week before.
The Series 6 is equipped with an impressive array of health sensors and features, although most of these were offered by at least one of its predecessors. It has fall detection and emergency SOS calls, an ECG and heart sensor, and the ability to warn about loud noises that could hurt your hearing. It tracks workouts; throughout the day it measures your calories burned, distance travelled, and stairs climbed, and reminds you to stand reasonably regularly. It can even offer some small help with mental health issues by prompting you to take a minute to focus on your breathing.
That's quite an offering. The problem for Apple is how to to improve on it – and the answer is blood oxygen measurement, and sleep tracking.
Blood oxygen
It's a measure of Apple's facility with marketing that the blood oxygen sensor has been widely accepted as the year's headline addition – indeed, it's the only new thing in the paragraph of flagship features that introduces the product – without widespread understanding of what it's supposed to achieve.
"Your blood oxygen level," says Apple, "is a key indicator of your overall wellness." Good to know – but what does it mean if the level is low? That I am simply Unwell, in a general and overall sense? What am I supposed to do with that information? Go to my GP and ask for a Wellness Pill?
Research elsewhere quickly reveals that blood oxygenation readings may occasionally help to diagnose certain chronic conditions such as asthma and heart disease, but are far more commonly useful as a means by which known sufferers of those conditions can tell if a given treatment is working. Regardless, Apple's messaging has not done a good job of explaining to the casual consumer how this metric will help to monitor or improve their health.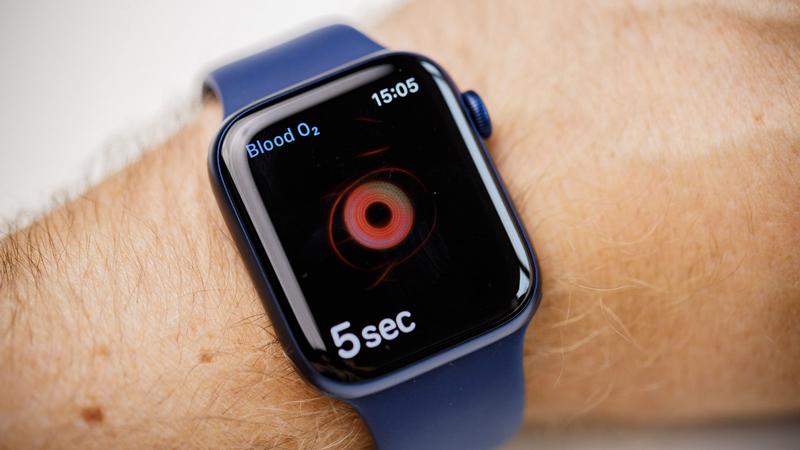 The new Blood Oxygen app is as easy to use as you'd expect, showing simply the last reading and a big Start button to manually take a new one. Tap this and wait 15 seconds – taking on board instructions such as "Rest your wrist on a table" if the device is struggling to take a measurement, and watching faintly sinister blue and red graphics that make it look like you're seeing through the watch into the veins beneath – and your level will then be presented in the form of a percentage.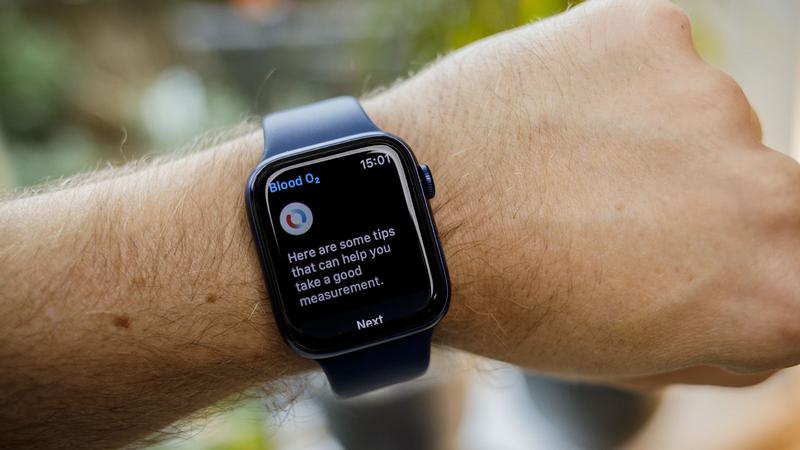 I wasn't especially reassured by the results. Sometimes the app didn't return a measurement at all, and sometimes it was slightly but confusingly inconsistent – on one occasion it came out as 98%, then 96% less than a minute later. (A small discrepancy, you might perhaps be thinking, except that most 'normal' results will be between 95% and 100%, which makes a two-point dip feel more significant.) On other occasions, however, it was perfectly consistent, once scoring 96% three times in a row.
In fact a degree of inconsistency is normal for even medical-grade tools in this area – I'm told that a two-point margin for error is expected – but it's important to point out that Apple's oximeter is not medical-grade, and deliberately so. The company chose to classify it as a wellness gadget rather than a medical tool, because this meant it didn't have to go through an exhaustive regulatory process with the FDA.
So we've got a tool for measuring a relatively niche medical metric that most of us wouldn't have heard of before this year's launch, which hasn't been proven to work accurately to a medical standard. It all feels a bit pointless, although perhaps it's best to think of it as an additional evidentiary contributor which the Health app can draw into a larger picture; no doubt by this time next year Apple will have edited together a video of people whose lives have been saved by timely diagnoses made possible by blood-oxygen measurements.
Sleep tracking
Sleep tracking is new for the year, but it's very important to note that it's not limited to the Series 6: all Apple Watches that can install watchOS 7 gain access to this feature. (I could also point out that it's only built-in sleep tracking that's new; there have been third-party sleep apps in the past.) But the Series 6, with its improved specs and battery, should be the perfect demo model.
The first thing to note is that watchOS's built-in sleep tracking is a lot less informative than the equivalent on Fitbit, which I used to depend on (and probably will again, based on this performance). Go into the Health app and you see a graph for the week or month, with a bar for each night. But this bar offers the bare minimum of info: it says when sleep began and when it ended, but there's no serious attempt to determine how much of that period was interrupted.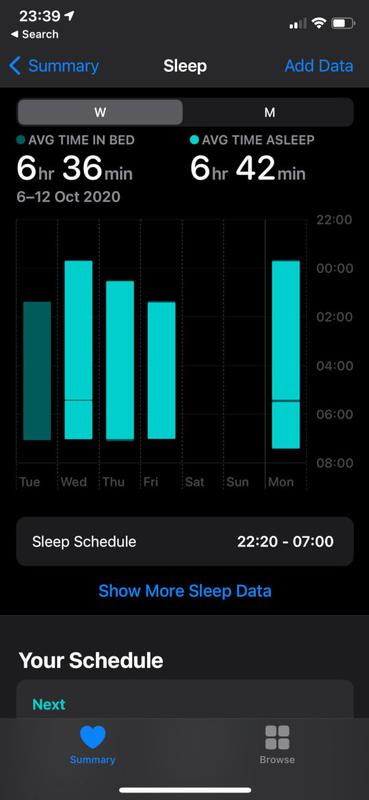 Using a Fitbit Inspire HR – which is able to draw on heart-rate data that some other Fitbits cannot access – produces a very different picture. It records the total time of sleep opportunity, but then separates this into deep, light and REM sleep, along with time when you were lying there awake. These categories are illustrated on a a far more complex graph of the night's activities, and you also get percentages, 30-day averages and comparisons with a typical range for people in your demographic.
To illustrate the difference, and to demonstrate that the app is the problem, not the sensor, here's how the Health (left) and Fitbit (right) apps interpreted the same night's sleep data from a Fitbit: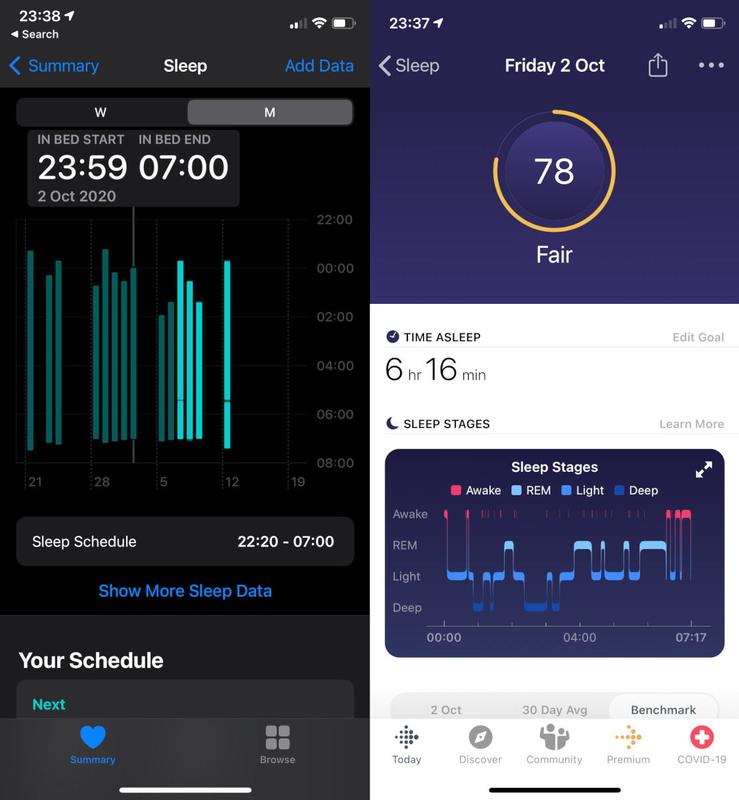 Having grown used to this level of detail, it's disappointing and a little surprising to receive so little information from the Apple Watch. It doesn't even seem to realise that a person might be so devious as to lie in bed and not be asleep, and going by my Health scores I'd have been under the impression I was sleeping a great deal more than my Fitbit experiences suggest I am.
(As a rule of thumb I tend to expect about an hour of non-sleep per night in total. If I arrange my bedtime and morning alarm eight hours apart, I'll probably get about seven hours of sleep. This gives an idea of how important it is to differentiate between sleep opportunity and actual sleep.)
This is all particularly confusing because we know that the Apple Watch has a heart-rate monitor, and indeed the Sleep page does show heart rate measurements across the course of the night. It just doesn't seem able to parlay this knowledge into an assessment of when you were in the various stages of sleep or non-sleep.
Slightly confusingly, however, Health does sometimes draw a distinction between time in bed and time asleep. At the top of the Sleep page you get a weekly or monthly average for each – but my page currently claims my average time in bed is 6 hours and 36 minutes, and my average time asleep is 6 hours 42 minutes. Unless it's somehow detecting sleep time outside the bedroom, that doesn't add up.
For the time being, then, I'm going to carry on wearing the Fitbit at night for sleep tracking while I charge the Apple Watch. But I appreciate that I'm lucky to have two good-quality wearables I can alternate in this way, and others may find the current limitations of watchOS's sleep tracking more of a hindrance.
Bear in mind, though, that sleep tracking is likely to improve in future, just as Siri and Apple Maps improved after making their underwhelming entries into established markets. And at that point the function's tight integration into the overall Apple ecosystem – tying seamlessly into your Apple Watch alarms and bedtime routine, and Health's big data picture – will probably make it the best option.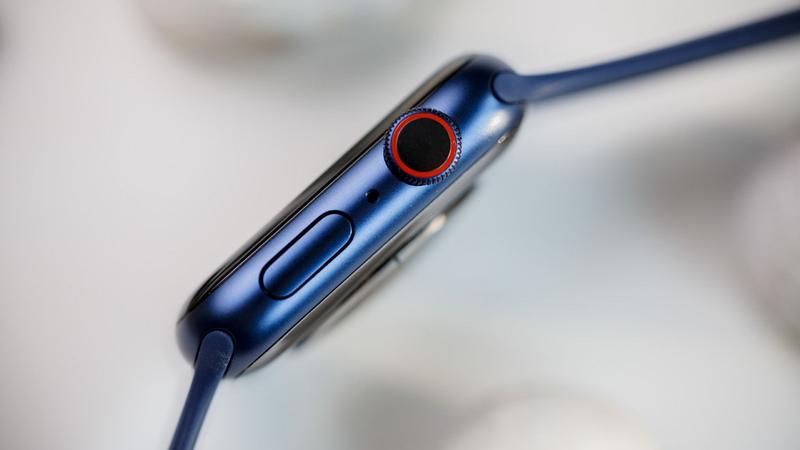 Verdict
I've tried to steer clear in this review of the usual journalistic obsession with "What's new?" But in the final reckoning we simply have to acknowledge that not much has changed since the Series 5.
The faster processor is good to have, and ensures a degree of future-proofing that you won't get if you buy an older model. Yet it makes no difference right now: as slick and quick as the Series 6 proves in everyday use, the same could be said of the previous two models under watchOS 7, and there are no video-editing apps for watchOS, no graphically demanding games that call for monstrous processing welly. In 2020 the Series 6 is more powerful than it needs to be.
Of the headline new features, the blood oxygen sensor is potentially useful as part of an overall health-monitoring package, but Apple does a poor job of explaining its value and we now know that the sensor itself has not been subject to medical-grade testing. That doesn't necessarily mean it's inaccurate – Apple may have simply wished to make the feature available in time for the Series 6 launch – but you should probably contextualise its findings within the advice of a medical professional.
And sleep tracking is the biggest disappointment. Its data is so facile compared to that of a decent-quality Fitbit that it barely seems worth the effort, and use of the watch at night makes charging a hassle that you have to remember to do instead of an automatic thing you do when you go to bed.
This all sounds like a lot of negativity, but it isn't meant to be. You see, the Apple Watch Series 6 is still a great smartwatch, for the simple reason that Apple Watches in general are excellent and this is the latest and best model in that range. It accumulates all the improvements of the five (arguably six) previous generations and puts them in a slightly better package.
You get the bigger screen from the Series 4, and you can set it to be on all the time, like with the Series 5, and it has a great battery (perhaps the single biggest improvement for this generation) for handling these two nice but power-draining features. The blood oximeter is underwhelming but it joins and slightly enhances what was already a formidable bank of health sensors and features.
The fact that there aren't a lot of significant improvements on the previous model doesn't change my feeling that this is a very good product, and for the vast majority of humans in the world who don't own an Apple Watch Series 5 this is an excellent choice of smartwatch.