iPad Air (2020) review: Hands on with Apple's new tablet
Visually, you have to look very carefully to notice that the new iPad Air isn't an iPad Pro: the angular, nearly all-screen case design was previously reserved for the more expensive tablets, but Apple has found room for an Air in that exclusive club.
This isn't the only area where this release sees the Pro and Air lines come closer together – in terms of CPU, in fact, the Air model is technically two generations ahead. But let's take things one step at a time.
In our iPad Air (2020) review, we test and evaluate the new tablet's design, new features, performance, battery life and tech specs, and help you decide if this is the iPad for you.
Price & availability
The new Air starts at £579/$599. It's noticeably more expensive than the Air released last year, although as we will discover, it offers numerous upgrades to justify this.
There are four configurations to choose from:
iPad Air 2020 (64GB, Wi-Fi): £579/$599
iPad Air 2020 (256GB, Wi-Fi): £729/$749
iPad Air 2020 (64GB, cellular): £709/$729
iPad Air 2020 (256GB, cellular): £859/$879
You can buy direct from Apple, or browse our guide to where to buy the iPad Air (2020).
Storage
More storage is always better, and this statement is just as true for Apple's tablets as it is for smartphones. Especially if you like to edit photos or videos on the big screen, which quickly racks up the gigabytes.
Nevertheless, when it comes to equipping the iPad Air with flash memory, Apple is sticking to its strategy: you either get a little, or you get a lot! You only have the choice between 64 or 256GB. This is a difference from the Pro models, which are available with 128 or 512GB, or even with 1TB.
A similar differentiation between the Air and Pro lines can be found with the RAM allocation. The new A14 Bionic chip is here supported by 4GB of RAM, whereas the A12Z Bionic in the Pro models has 6GB. You can tell that there are significant differences under the hood, which is why it's perhaps better not to compare the iPad Air directly with the Pro models.
A better – and we'd say fairer – comparison would be with the direct predecessor, the iPad Air from 2019.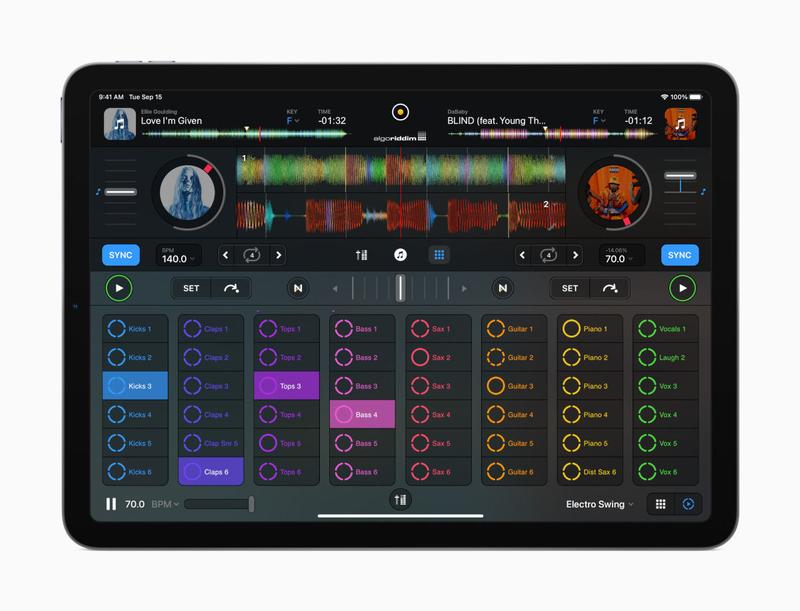 New display
At 10.9in, the display has become a little larger than the 10.5in screen of the Air's 2019 predecessor. The Home button has disappeared; you can now reach the home screen – as with the Pro models – by swiping up from the lower edge of the screen.
The resolution is now slightly higher, while brightness remains the same at a maximum of 500 nits. We measured 404 nits under laboratory conditions in a dark room, which is a decent performance, and even outdoors you should rarely find that you can't see what's on the screen. Don't forget to pick up a case for the Air 4 if you want to keep that display looking new for longer – see the best Air 4 cases here.
The colour space of the iPad Air (coloured shape) is rated at P3, but in tests it offered slightly less than the colour space of the 16in MacBook Pro (transparent shape)
The contrast ratio, which we measured at around 1300:1, is also a reasonable figure, but we are still a long way from the dream numbers of an OLED display. Whether OLED will ever make it into Apple's tablets is hard to guess.
One consolation is that the Android competition is also proving frugal in this respect. Only a handful of manufacturers offer OLED tablets with screens larger than 10in.
Touch ID in the power button
No more Home button and no Face ID? How do you unlock the new iPad Air now? This brings us to a real innovation that Apple has never used in any other product: the fingerprint sensor moves to the power button on the upper edge of the iPad case.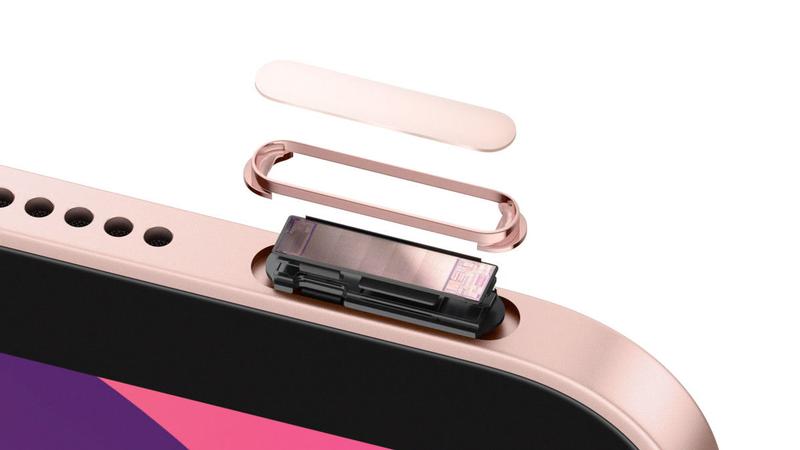 This makes it significantly smaller, and considerably narrower. Can it still reliably recognise fingerprints? We were initially sceptical, and tested the function carefully.
Setting up fingerprints works in the same way as with the conventional round sensor. First, the iPad saves the middle area of ​​the fingertip, then the edges.
As before, you can save up to five fingertips – which really makes sense now, because if you operate the iPad Air with the Magic Keyboard (which it supports), the power switch is on the left. As a right-handed person, you definitely have to include your left index finger as an unlock option, otherwise there will be unpleasant contortions in front of the iPad.
After an initial familiarisation phase, unlocking with the narrow sensor worked fine in practice. Maybe we had a few more unsuccessful attempts than with the larger sensor, but all in all the narrow sensor worked surprisingly well.
It can be assumed that Apple will also use this type of unlocking in other devices in the future. Fingerprint sensors still have their advantages, especially when there's a pandemic, because Face ID fails if you wear a face mask. But Apple is keen to leave out the Home button, because this allows for larger screens. Touch ID in the power button is a sensible compromise.
Staying connected
As we've seen with the Pro models, Apple is slowly saying goodbye to the beloved Lightning port, which is now getting on in years. The new iPad Air comes with USB-C.
This may mean chucking out a bunch of Lightning accessories you already own, which is always frustrating. But there are plenty of third-party chargers out there, and Apple bundles a 20W USB-C power adapter and cable. Using these accessories the iPad charged from zero to 100% in just under two and a half hours.
We'll admit there are possible annoyances in switching from Lightning to a new connection standard, but you can do a lot more with USB-C. Mass storage media such as USB sticks or even external hard drives can be connected directly and a large number of files can be opened immediately using the Files app or copied to internal storage. Other peripherals such as USB ethernet adapters will also work. Simply plug it in and a new item 'Ethernet' appears in the Settings app. Great!
We already alluded to this, but thanks to three contact points on the back and a couple of powerful magnets, the new iPad Air works with the Magic Keyboard. Apple sent us one to test, and it's amazing how quickly you get used to using the keyboard and trackpad. In no time you can work with the iPad just like you're using a MacBook.
Whether it is actually a real replacement for a notebook depends – as so often – on the software. There are still programs that you can't get on an iPad, especially developer tools such as Xcode or professional software for audio/video editing. Even with a Magic Keyboard and trackpad, an iPad will not penetrate into these areas so quickly.
Read more in our Magic Keyboard review.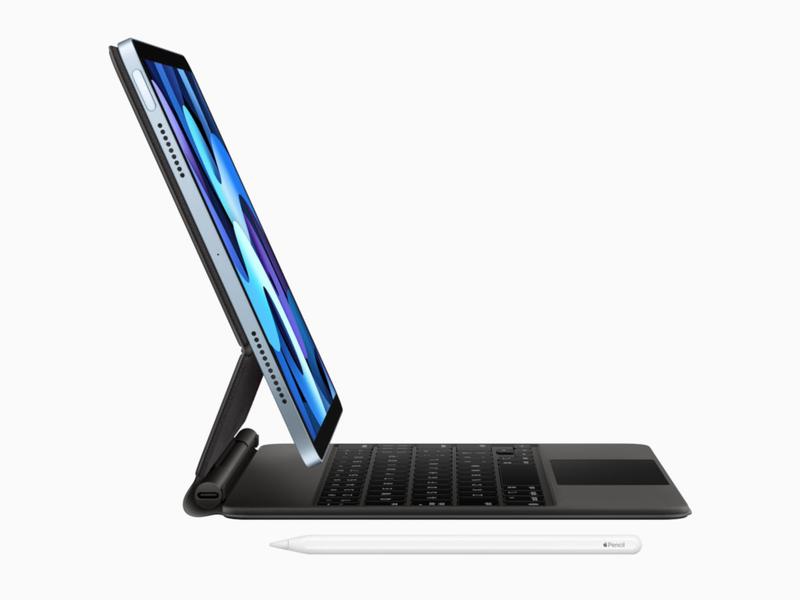 If you're artistically inclined or like to work by hand, you will be happy to be able to use the 2nd-generation Apple Pencil. In our tests, the handwriting recognition that Apple is introducing with iOS 14 worked well, although it struggled with umlauts when writing German. Readers of this English translation may not find that too worrying.
Camera
Another big step forward compared to the Air's direct predecessor is the built-in camera on the back, which now has a resolution of 12MP.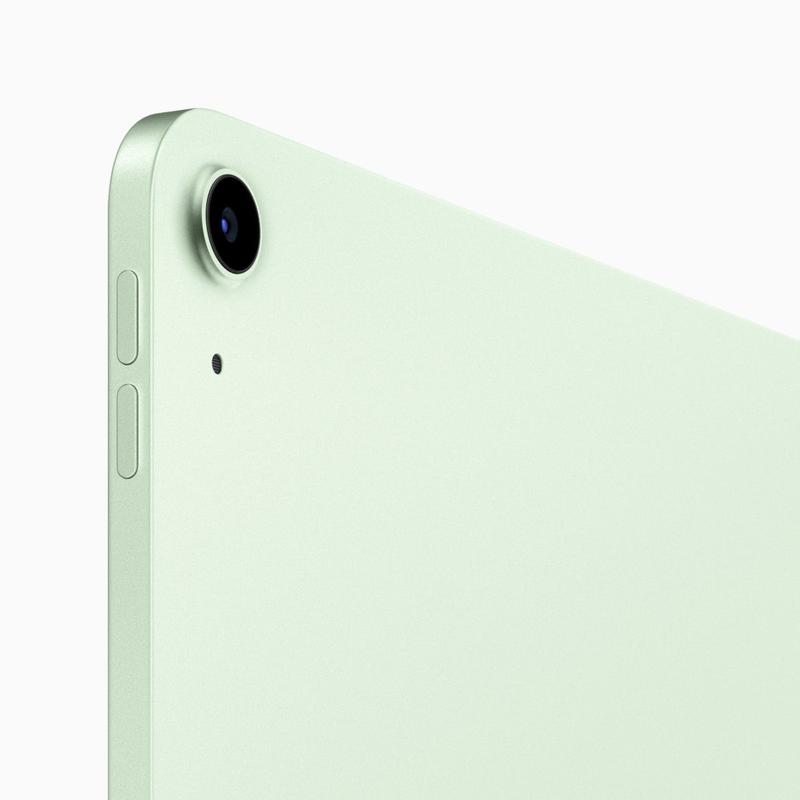 We took a few test photos with the iPad Air in autumnal surroundings and compared them with the iPad mini 5, which has roughly the same camera as the previous Air. You can see that the iPad Air (2020) shoots sharper images and the colours come out looking a little crisper and more natural. In the macro area, however, the look of the iPad mini 5 is slightly ahead.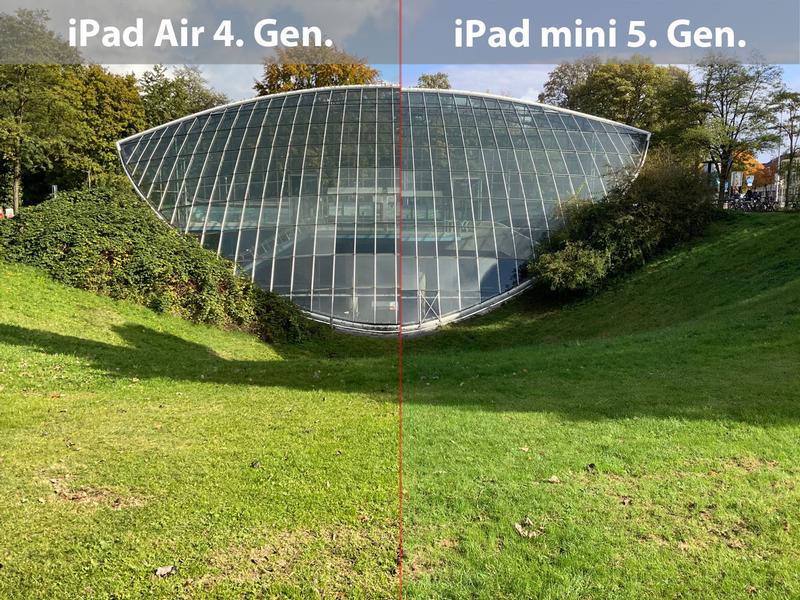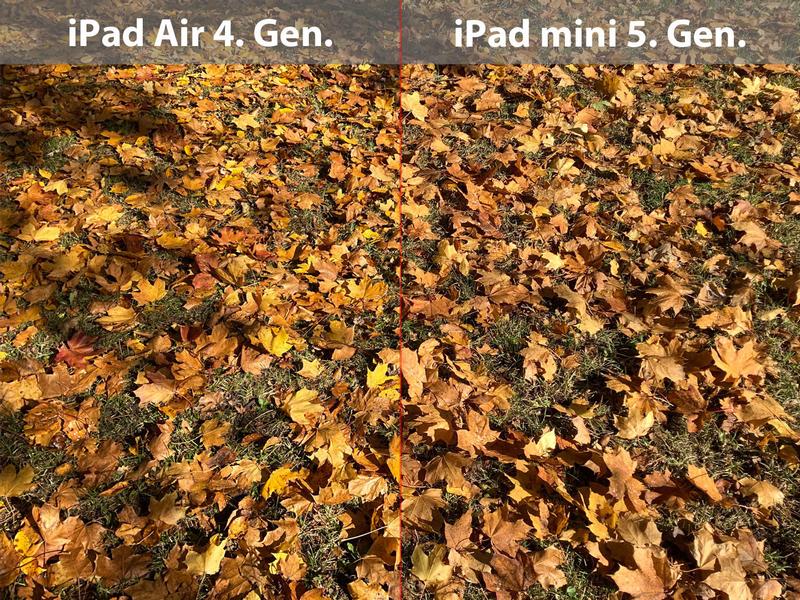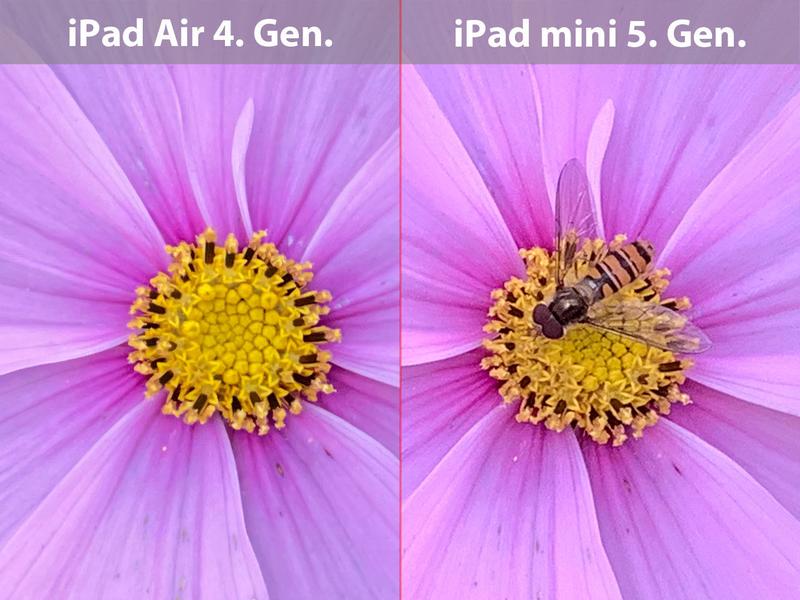 A14 Bionic processor: Welcome to 5nm
For the first time, Apple is using a processor, the A14 Bionic, that was created using the 5nm process. This chip makes its official debut in the iPad Air 4, although it has since reappeared in the iPhone 12.
A lot has been written about the A14 Bionic, such as Stephan Wiesend's analysis of why the A14 chip is revolutionary. Now we can measure ourselves for the first time.
CPU performance compared to the A12 in the iPad mini 5 and iPhone XS is between 12% (Linpack) and a whopping 79% (Geekbench 5 multicore test) better. In graphics-sensitive tasks, it showed an improvement of 14% (3DMark).
The A14 Bionic thus achieves desktop performance right from the start and even outperforms established Intel chips in the Geekbench single-core test. This is more than enough power for an iPad in all situations and it shows where Apple wants to go with the A14.
An A14, however optimised, in a MacBook or iMac should provide unprecedented computing power. Especially if you add active cooling, which is not available in the iPhone 12 or the iPad Air 4.
Battery life
Despite the improved computing and graphics performance, we found that battery life remained essentially the same as on the previous generation.
In our exceptionally demanding worst-case test, we played an MP4 video in an endless loop at 100% screen brightness. Here the iPad Air ran out of juice after 5 hours and 42 minutes. The iPad 7 only ran slightly longer here.
In a more realistic but still demanding web-browsing test, we continually called up a variety of websites. Using this method the iPad Air 4 ran for 10 hours and 30 minutes – again, a very good performance.
In everyday life you should expect the iPad Air to last an entire working day without any problems. What more could you want?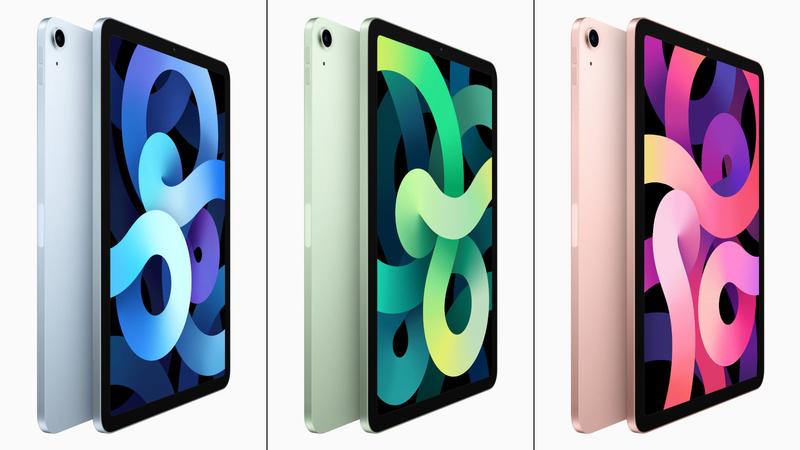 Verdict
The iPad Air (2020) is a significant step forward – especially compared to its direct predecessor, which is just over a year old.
The gap between the Air and Pro models is shrinking, but remains noticeable in certain areas. Still, if you're thinking about buying a new tablet and don't necessarily have professional ambitions for it, the new iPad Air is exactly the right companion that will bring joy for many years to come.
This article originally appeared on Macwelt. Translation by David Price.