Apple Watch Series 5 vs Series 3
Many tech experts advise updating your Apple devices every other generation, but those who went from the original Apple Watch to the Series 3 might be forgiven for doubting that wisdom. The big steps forward for Apple's wearable, of course, happened with the Series 2 (battery life, water resistance, GPS) and Series 4 (bigger screen).
Apple now sells both the older Series 3 and the new Series 5 Apple Watch. Are the new features and specs worth the extra cost?
And, assuming you're currently rocking a Series 3 (and presumably cursing the large screen and other handy features of the model that came out a year later), you're probably wondering if now is the time to upgrade. Or is Apple saving its big enhancements for the even-numbered generation, as per usual?
In this comparison review we weigh up the specs, features, design and value for money offered by the Apple Watch Series 3 and Series 5. We'll help owners of the former decide if they should upgrade to the latter, and also advise those who are considering which of Apple's current watches to buy: the new or the budget option.
For specific analysis of each model, read our Apple Watch Series 3 review and Apple Watch Series 5 review.
Price & availability
The Series 3 came out in 2017, and can still be bought direct from Apple. It starts at £199/$199, and is the cheapest Apple Watch currently available.
The Series 5 was launched in September 2019. It starts at £399/$399 and can also be bought direct from Apple. For the best discounts and offers, read our guide to the best Apple Watch 5 deals.
Design
Apple has been fairly conservative with its watch designs: the original and Series 1, 2 and 3 all look essentially the same, whereas the 4 and 5 have an updated design that is… really pretty similar to the old one.
Still, the Series 3 belongs to the old tradition, and the Series 5 to the new. Which means, mainly, that the Series 5 has a considerably bigger screen on a chassis that's almost the same size: the bezels are smaller and the corners of the screen rounded, which means the screen reaches almost to the edge of the body.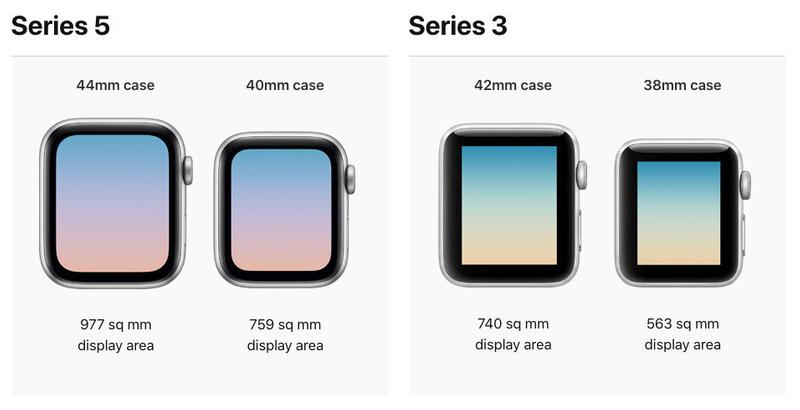 As you can see above, this means you get 32 percent extra screen space on the larger model (ie, when upgrading from the 42mm Series 3 to the 44mm Series 5), and 35 percent extra on the smaller one (going from 38mm to 40mm).
Cosmetically there are some other changes to consider: namely a raft of new materials and finishes. The Series 5 offers new gold and Space Black finishes for the stainless steel models, and a costly ceramic model.
Features
The main feature added for the Series 5 update is an always-on screen, which incidentally is something that fans have been demanding (and which rival smartwatches have offered) for years. Instead of having to tilt the watch, or tap its face, to make the screen light up, the Series 5's display is on all the time – although it does dim slightly when not in use so as to preserve battery life.
The Series 5 also adds international emergency calling and a compass, which provides you with additional location data such as heading, incline, latitude, longitude and current elevation. This data will be made available to third-party app developers where appropriate (and where permitted).
So much for the 2019 update. But you have to remember, since we're potentially skipping two generations here, that you will also gain the Series 4's upgrades. This means a number of health-related features, such as an ECG and better heart monitors, and fall detection.
Specs comparison table
Let's look at the specs list for these two devices. Note that S3 and S5 processors are proprietary Apple chips so it's difficult to be exact about their capabilities; the company claims that the S5 is "up to 2x faster" than the S3.
Note also that the claimed battery life for the Series 5 is the same as for the 3, which is something of a surprise – that always-on display feels like it would be a consistent battery drain. Apple has said that the 5's new display driver, ambient light sensor and integrated power management circuit will all assist in this regard.
Apple Watch Series 5

Apple Watch Series 3

Dimensions

40mm: 40 x 34 x 10.7mm

44mm: 44 x 38 x 10.7mm

38mm: 38.6 x 33.3 x 11.4mm

42mm: 42.5 x 36.4 x 11.4mm

Display

40mm: 1.57in (324 x 394) OLED Retina display with Force Touch

44mm: 1.78in (368 x 448) OLED Retina display with Force Touch

38mm: 1.5in (272 x 340) OLED Retina display with Force Touch

42mm: 1.65in (312 x 390) OLED Retina display with Force Touch

Always-on display

Yes

No

Processor

S5

S3

Storage

32GB

16GB

Connectivity

Bluetooth 5.0, Wi-Fi 802.11 b/g/n, NFC, optional LTE

Bluetooth 4.2, Wi-Fi 802.11 b/g/n, NFC, optional LTE

Accelerometer

Yes

Yes

Gyroscope

Yes

Yes

Heart rate sensor

Yes

Yes

ECG

Yes

No

Barometer

Yes

Yes

GPS

Yes

Yes

Compass

Yes

No

Water resistance

Yes – up to 50m

Yes – up to 50m

Battery life

18 hours

18 hours

Price

From £399/$399

From £199/$199

Where to buy
Verdict
Should you update from the Series 3 to the 5? This is a difficult question.
If you're running a Series 3, upgrading to a Series 5 will undoubtedly provide you with a plethora of advantages: a compass, an ECG, better heart monitors, upgraded Bluetooth, more storage, fall detection, a much bigger (and always-on) screen and faster performance. It's a far better device in virtually every way.
But there is a danger that you'll get caught out again and regret your decision come autumn 2020. You see, with the benefit of hindsight the optimal upgrade path was to skip the original Apple Watch and then go for the Series 2 and Series 4 – those were the really impressive generations. And we suspect that the Series 6 may be a more substantive step forward.
Alternatively, if you're approaching this as a new customer and you're simply wondering whether to buy the Series 3 or the Series 5, our advice would be to pick the newer model if you can afford it. The Series 3 should be fine now but it will only get slower over the coming months and years – you would realistically just be getting it as a stopgap until next year.
For general advice, read our Apple Watch buying guide.